Most people do not know how to pose in front of a camera, let alone in front of a blank white space. The Portrait Studio includes a live professional photographer to help your guests bring out their personalities and give them the confidence to express themselves. 
We also use large professional grade studio lighting to bring out the best of your favorite people and to ensure a soft, pleasing quality of light for your images.
4x6 prints are included for each family unit per session, up to a maximum of 3 prints per session. Each image will also be uploaded to an online gallery within 48 hours and will remain available for a minimum of one year.
With everyone dressed to the nines and looking their best, guests are able to use their digital images to enlarge, reprint, and frame their mementos on the wall should they choose to. What better way to remember your event than seeing the images taken there in their own home?
*Inspiration: What your guests can do with their digital images
Each additional hour:  $400
Idle time (optional): $100/hr (maximum 2 hours)
No additional charge for set up and take down outside of booked hours
Professional Photographer to guide guests with posing
4x6 prints for each family unit per session (up to a maximum of 3 prints per session)
Unlimited Sessions for Guests
High Resolution Images in Original Format and with Template Uploaded within 48 hours
Access to Private Online Gallery for a minimum of one year
Print an extra copy specifically for your guests to sign and leave a message, effectively replacing a traditional guest book. Review their well wishes right alongside their images and you'll have a memento of your guests on your special day too!
Black Sharpies will be provided 
Gold Hanging Frame available for rent for $35 (please inquire)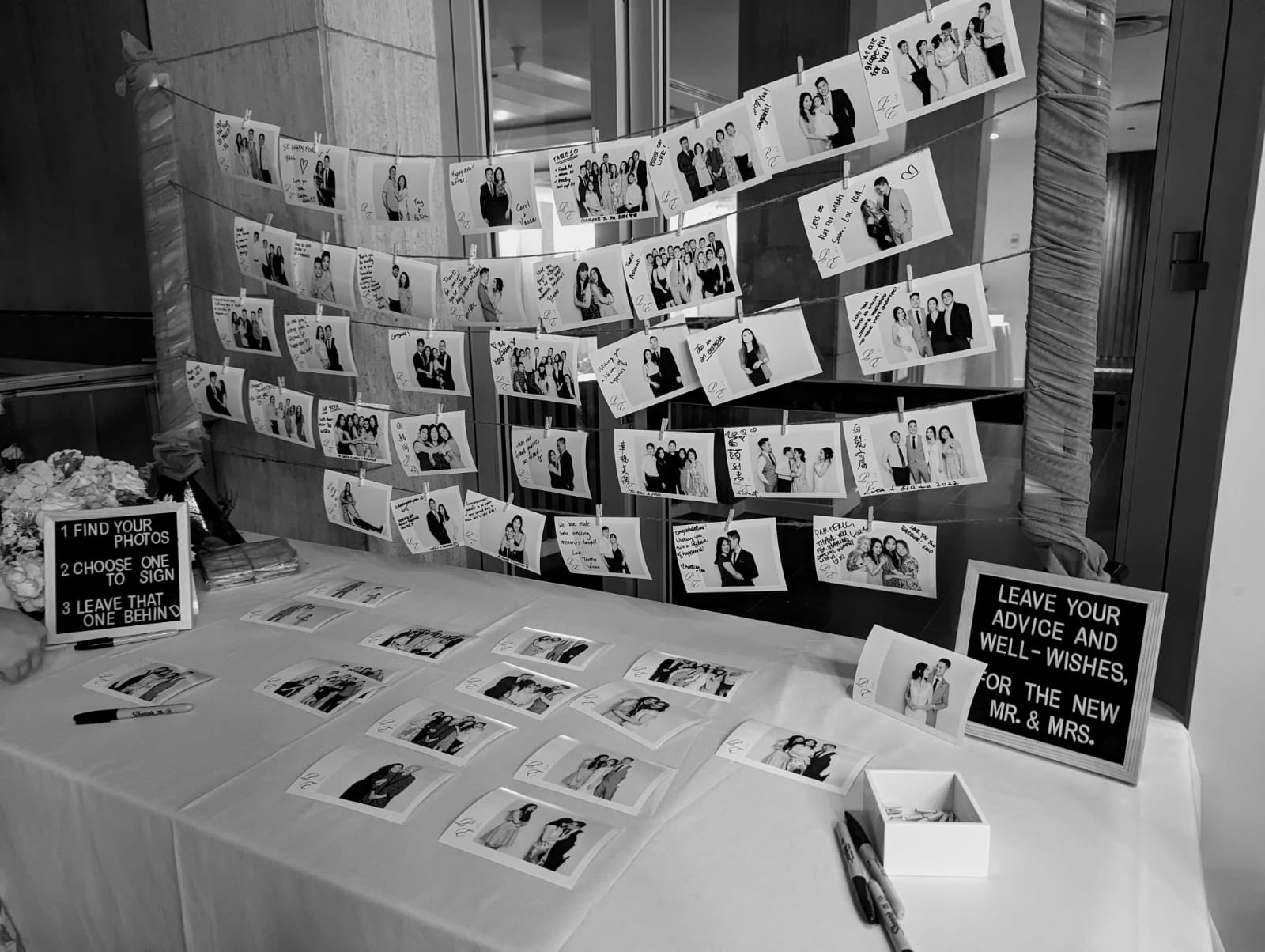 Convert all the digital images taken at your event to color so you have the collection of both versions. Images are professionally edited on a color calibrated monitor after your event and also includes minor teeth whitening of all applicable images taken at your event.
Turnaround Time: +1 additional day for entire gallery
+$350 for the first two hours
$50 per additional hour thereafter